OUSD press release
OUSD NEWSROOM
PRESS RELEASE Friday, May 15, 2020Contact: John SasakiCommunications Director 510-214-2080

[email protected]



Oakland, CA — An OUSD first grade teacher who has made a name for himself by reading to his students virtually in an effort that's gone viral around the world, will appear this afternoon on The Ellen Degeneres Show on NBC Bay Area. Peter Limata from Emerson Elementary School has been hosting what he dubs "story time" for children during the shelter in place, and his efforts attracted so much attention online that he got some local news coverage, including this story by NBC Bay Area.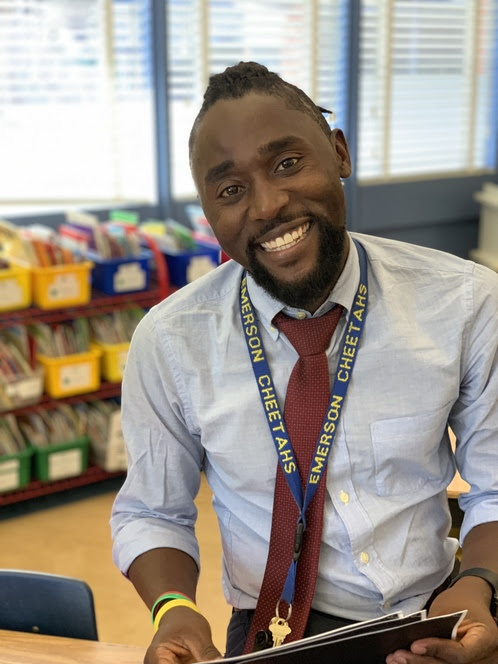 Emerson Elementary First Grade Teacher, Peter Limata."I am so thrilled that Peter has received this amazing recognition," said Emerson Principal, Heather Palin. "He is a tremendous educator and asset to his students and our community. The joy that he brings to story time is positively contagious and a true bright spot in these challenging times."

As Ellen begins the interview, which was pre-recorded, she mentions that Limata thinks he is going to be talking virtually to a producer on the show. Instead he comes face to face with Ellen and his reaction is priceless. It's rivaled only by his reaction near the end of the interview at which point Ellen surprised him with financial support for the school, followed by another even bigger surprise.

Ever humble, Limata deflected the support onto his school. "I am still in shock about the attention," he said. "But it absolutely speaks to the community that we have at Emerson. We have a great bond and that's the energy everyone has been able to tap into. It is such a generous and timely donation from Ellen. Heaven sent really! My community needs it and it will go a very long way."
You can watch the amazing and joyful segment in the video above or you can tune in to NBC Bay Area at 4:00 p.m. today.

Principal Palin says half the money for the school will go to partner organization, Equity Allies. "Our entire team is so happy for Peter. We surprised him by showing the video on our Staff Zoom call this morning! Lots of joy and congrats and appreciation to him and the whole team at Emerson – who are putting their hearts and minds into supporting kids and families right now."
###About the Oakland Unified School DistrictIn California's most diverse city, Oakland Unified School District (OUSD) is dedicated to creating a learning environment where "Every Student Thrives!" More than half of our students speak a non-English language at home. And each of our 83 schools is staffed with talented individuals uniting around a common set of values: Students First, Equity, Excellence, Integrity, Cultural Responsiveness and Joy. We are committed to preparing all students for college, career and community success.

To learn more about OUSD's Full Service Community District focused on academic achievement while serving the whole child in safe schools, please visit OUSD.org and follow us @OUSDnews.