OUSD NEWSROOM
PRESS RELEASE 
Monday, March 15, 2021Contact: John SasakiCommunications Director 510-214-2080

[email protected]

Seniors Receive College Acceptance Messages Using #OU Devices
Oakland, CA — In less than ten months, the #OaklandUndivided team, school staff, and a cadre of volunteers have handed out almost 25,000 free computers to Oakland public school students at schools across the city. It was a herculean effort to raise more than $12 million last spring, order the devices, get them delivered during a pandemic, and finally put them in the hands of students. On Tuesday, March 16, which is the one year anniversary of the first day our campuses were closed to students by the pandemic, the effort will mark a critical milestone as the 25,000th student will receive their computer at Garfield Elementary School.

The audacious mission of #OaklandUndivided — to close the digital divide for good in Oakland — was announced shortly after schools were shuttered and the vast inequities among distance-learning students were exposed. The team announced a goal to provide 25,000 free laptops and internet service — paired with culturally competent tech support — to every student in need across Oakland. Today the results are in.

According to our Tech Check Survey, #OaklandUndivided devices, along with computers loaned to students, supported the Oakland schools in going from about 25% of students being connected to the internet with a computer at home, to now, at least 97% of students confirmed being connected. For low income students — the majority of whom are BIPOC — the change was even more dramatic: from 12% of students owning a device last spring to 97% connected now. We have also confirmed that 99% of elementary school students are connected to the internet with a device at home. The computers also came with internet hotspots for students who needed the connection at home. Additionally, the students and their families have tech support that is quick, efficient, and culturally competent.

"On a broad scale, this is such a powerful example of the African proverb, 'It takes a village to raise a child,'" said Superintendent Kyla Johnson-Trammell. "This effort would never have happened were it not for our partnership with the City of Oakland and Mayor Libby Schaaf, the Oakland Promise, Tech Exchange, and the Oakland Public Education Fund. Likewise, we could not have done it without our dedicated staff, and the financial support of so many high-tech leaders and other generous donors. I am very excited to meet our 25,000th student who will receive one of these devices, and hear about all the amazing work they plan to do with it."

"Oakland Undivided shows us what's possible when Oakland comes together to end an injustice," said Oakland Mayor Libby Schaaf. "We can end racial and educational injustice. We can close a digital divide caused by systemic racism. We can uplift our children, support all families, and make our society a beloved, equitable society, when we lock arms and work together for a shared vision."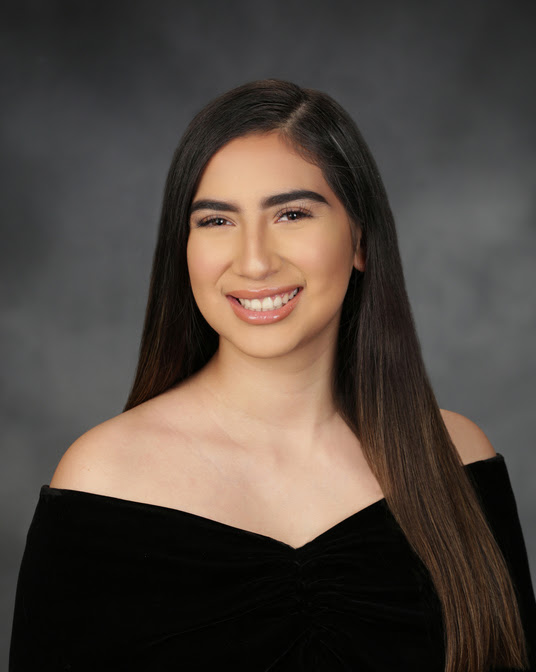 This distribution event comes at a good time for another reason: This is the time of year when high school seniors receive their college acceptance messages. We know of hundreds of seniors who submitted their applications for colleges and universities online, using their #OaklandUndivided devices. One such student is Jessica Ramos (right), whose video testimonial helped launch our efforts. Jessica is a senior at Skyline High School, Student Director on the OUSD Board of Education, has held leadership roles with #OaklandUndivided, OYAC and All-City Council, and shares the impact of the devices on her senior year and her future in college.
"One year ago, I would walk to Dimond Library to be able to turn in assignments and do AP work on my smartphone, while I shared a laptop with my mom," she said. "But then, I received an Oakland Undivided Laptop and hotspot during the summer of 2020. That enabled me to start my applications to 30 different colleges and universities. Partly because of that laptop, I have now been accepted to the University of Portland, Saint Mary's College, San Jose State University, Chico State University, Sacramento State University & Cal State LA."

Another student enjoying the benefits of #OaklandUndivided is Mia Pollard (left), Oakland High School's President of the Class of 2021 and President of the school's Black Student Union. "Ever since [receiving the laptop], it has helped me completely and significantly because I got to complete my college applications and everything and without Oakland Undivided, I wouldn't have been able or would have struggled to complete my senior year at Oakland High. I wanted to say 'thank you, Oakland Undivided, for providing me those resources that completely changed my life and that I can have forever.'" Pollard has been admitted to more than 20 colleges, including many Historically Black Colleges and Universities (HBCUs). Pollard, Ramos and other graduating seniors will be at the Garfield computer distribution event helping to hand out devices to some of our youngest students and their families.

"Applying for college in the best of circumstances can be incredibly challenging and stressful," said Superintendent Johnson-Trammell. "But imagine doing it now – when everything happens online – without a computer or internet access at home. The Oakland Undivided effort has been critical not only because it has allowed students to do their homework, projects, and research papers with a world of information at their fingertips, but it has also enabled them to do so many other things including apply for college and jobs from home. It is also benefiting their families, who may have had no previous experience with computers, but can now also apply for jobs, and connect with services in the community during this very difficult time."

Media is invited to join the computer and hotspot distribution event, talk with students and families receiving these computers, and interview college-bound students who used their #OaklandUndivided devices to apply for college.
Students using computers in school, pre-Covid.Although #OaklandUndivided has reached its initial 25,000-laptop goal, the collective movement to close the digital divide and meet critical technology access needs for Oakland's most vulnerable students and families harmed by COVID-19 continues. #OaklandUndivided is serving as a national model to solve this immediate need for distance learning, and also address this long-term systemic inequity. We invite new partners and investors to join #OaklandUndivided to ensure all incoming Oakland public school students in need have access to a computer, internet and tech support now, and also to ensure connectivity continues for all our students this upcoming school year, and ultimately to close the digital divide for good.
WHAT: #OaklandUndivided Device Distribution Event Including 25,000th Device
WHEN: 2:15 p.m., Tuesday, March 16 (Mayor and Superintendent arrive at 2:30)
WHERE: Garfield Elementary School, 1640 22nd Avenue (Media can park on the school yard, entering on Foothill Blvd.)
###About the #OaklandUndivided initiative:
#OaklandUndivided is a joint venture of OUSD, Tech Exchange, Oakland Promise, Oakland Public Education Fund, the City of Oakland, and Mayor Libby Schaaf. The vision of #OaklandUndivided is to close the digital divide for our most vulnerable families in Oakland and ensure that every student in need has access to a computer for use at home, a stable internet connection, and the culturally-competent tech support they need. 
To learn more about the initiative, go to www.oaklandundivided.org; to learn more about our founding and leadership partners, go to oaklandundivided.org/partners. If you would like to join the #OaklandUndivided movement and/or explore partnership to fill gaps so we can provide computers, internet access, and tech support to all students in need for the upcoming school year, contact David Silver, Director of Education for Oakland Mayor Libby Schaaf at:

[email protected]

. 
About the Oakland Unified School DistrictIn California's most diverse city, Oakland Unified School District (OUSD) is dedicated to creating a learning environment where "Every Student Thrives!" More than half of our students speak a non-English language at home. And each of our 81 schools is staffed with talented individuals uniting around a common set of values: Students First, Equity, Excellence, Integrity, Cultural Responsiveness and Joy. We are committed to preparing all students for college, career and community success. 

To learn more about OUSD's Full Service Community District focused on academic achievement while serving the whole child in safe schools, please visit OUSD.org and follow us @OUSDnews.